Vietnam has recently become one of the hottest growth markets for beauty and cosmetics in Asia. Wellness Today is fortunate to talk with a Hanoi-based beauty enthusiast and cosmetics dealer Dao Huyen, founder & CEO of S.H.E. Cosmetics Ltd.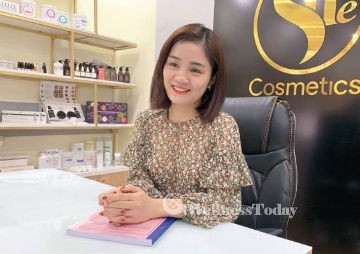 ▲ Ms. Dao Huyen, founder & CEO of S.H.E. Cosmetics Ltd.

[WT] Could you tell us a bit of your background?
[DH] I have been working in cosmetics field for more than 5 years. I started as a sales person at a small cosmetics shop. It was about two years ago when I became deeply attracted by cosmetics trading business. At that time, I was working as a sales & marketing manager at a local skincare clinic which sells not only skincare services but also cosmetics products. While working, I found that the Vietnamese cosmetics market was booming but needed to mature as customers were rapidly getting savvy. I soon moved to a Korean cosmetics company in Hanoi and started working as a manager at large. At this company, I was fortunate to get many insights from local distributors and consumers. I found Korean-made cosmetics products were getting high popularity in local market.
In early 2018, with the vision of bringing the best cosmetics products mainly from Korea to the Vietnamese customers, I started my own business, S.H.E Cosmetics Ltd., offering OEM ODM services to local enterprises and also sourcing the hottest trend cosmetics from Korea for local distributors in Vietnam.
[WT] What do you think about today's Vietnamese cosmetics market?
[DH] The cosmetics consumption in Vietnam is still low compared to neighboring countries like Thailand. However, if you have a better understanding of the characteristics of the country, Vietnam is more promising than any other country. It's really an attractive market.
Above all, the percentage of younger people under 35 is 60%. Due to rapid westernization and increased personal social exposure, young people are more interested in their appearance than ever before. The other reason why the Vietnamese market is more attractive is because of the socio-economic role of women who have traditionally been quite active. With the increase in women's income, I am sure, they will spend more money on beauty and cosmetics. I think this is going to happen very quickly.
[WT] Specifically, what aspects of beauty consumption expenditure should we pay attention to in Vietnam?
[DH] As in other countries, Vietnamese women spend their money in purchasing home care cosmetics products and/or in getting treatments at beauty salons. For home care products, the preference for whitening function or sunscreen is high due to the nature of Vietnam climate. But the problem is that they are very interested in cosmetics, but there are not many people who have enough knowledge about exactly what products to use and how to use them. So the beauty market in Vietnam is characterized by a lot of skin care shops in each neighborhood. Consumers want to receive cosmetics from these shops and receive professional treatment from them. However, there are not many skincare shops that have mastered the techniques to fully understand the products and use them effectively. Of course, I think there will be many improvements over time.
[WT] At this point, what parts of Vietnam skin care shops should focus on to evolve themselves?
[DH] In a word, differentiation. Many shops now offer similar products and similar services. In order for shops to evolve and be competitive, they must have differentiated technology. If you simply sell cosmetics on the market, you cannot win the competition. And it is also important to have good products to gain trust. In short, arming with good products and good skills is the basis for differentiation, and I think more customers will come to these well-organized shops.
[WT] I hear that you are planning to open your skincare shop yourself. Could you elaborate in detail?
[DH] Yes, I am currently in contact with various agencies in Korea to provide services that Vietnam consumers really want. I would like to choose an institution that can provide a good selection of products and continue to provide skin care related technology. The key to this plan is to build a solid platform for reliably supporting existing skincare shop operators and new start-ups. I plan to open my first shop by the end of this year.
[WT] Thank you for many good comments. Finally, what does the company name S.H.E mean?
S.H.E. stands for Safety, High Technology, and Effectiveness. The purpose is to provide customers with a safe product with the latest technology to ensure maximum effectiveness. This name is the company's future mission as well.
ⓒ 웰니스투데이 & wellnesstoday.kr 무단전재-재배포금지